Why should I volunteer with the European Solidarity Corps?
 And this «entertainment» is available to absolutely everyone and allows you to discover new places, friends, skills and even countries! That is why it is important to know what volunteering under the European Solidarity Corps program is, what are its pros and cons, and where to look for it. 
Let's start with the essence of volunteering.
Volunteering is a voluntary socially useful activity

Volunteering is primarily an opportunity to influence what is happening around you, initiate your own projects and change the country.

Volunteering is voluntary assistance in solving or mitigating social problems.
There are many volunteering opportunities and they are different. For example, cleaning beaches from plastic, helping to organize educational lectures on human rights for students at your university, communicating and caring for people with disabilities or elderly people. In Ukraine, due to the full-scale invasion of russia and the war, many organizations and people have joined in to help the victims who lost their homes, as well as the military to provide ammunition and protection. As you can see, volunteering is the first thing that can be done to mitigate or solve any problem. People do it of their own free will and for free.

Therefore, we recommend that you try what it's like to be a volunteer and find your own definition of volunteering. The main thing here is to understand that it is a free activity that benefits society and other people.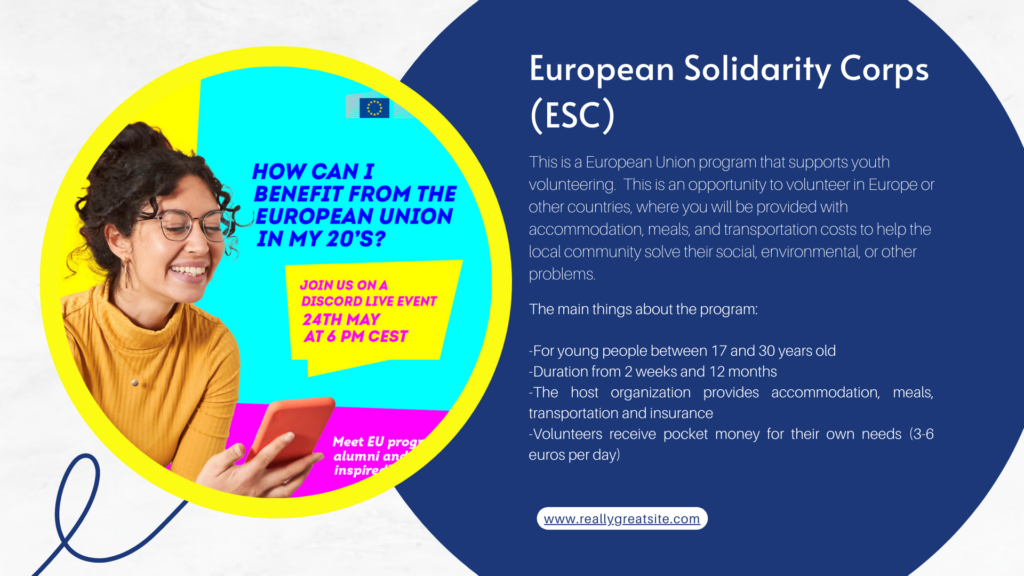 And the best volunteering option for young people may be the European Solidarity Corps (ESC) program.  This is a European Union program that supports youth volunteering. Those who want to join the European Solidarity Corps can register on the website and start looking for their ideal volunteering based on their skills, ambitions, and values. At the same time, officially registered groups of young people who meet the program's criteria can receive funds to implement their own projects and invite volunteers to join them.


Advantages of this program:  
– Aimed at young people from 17 to 30 years old; 
– there are individual or group volunteer opportunities, lasting from 2 weeks to 12 months: short-term (up to 3 months) and long-term (up to 1 year); 
– you can volunteer abroad or in your own country (anywhere in the EU or partner countries of the program); 
– the program covers insurance;
– you can choose different areas of volunteering: culture, youth, sports, children, cultural heritage, art, animal protection or environment; 
– the host organization provides accommodation, meals and transportation costs; 
– volunteers receive pocket money for their own needs (3-6 euros per day, depending on the country); 
– you have 2 additional days off per month according to the program terms;
– access to a range of support services such as language support, training and mentoring;
– If you have special needs (e.g. disability), these costs may also be covered;
– receiving a YouthPass certificate after completion of the internship describing the skills and competencies you have acquired during your volunteering.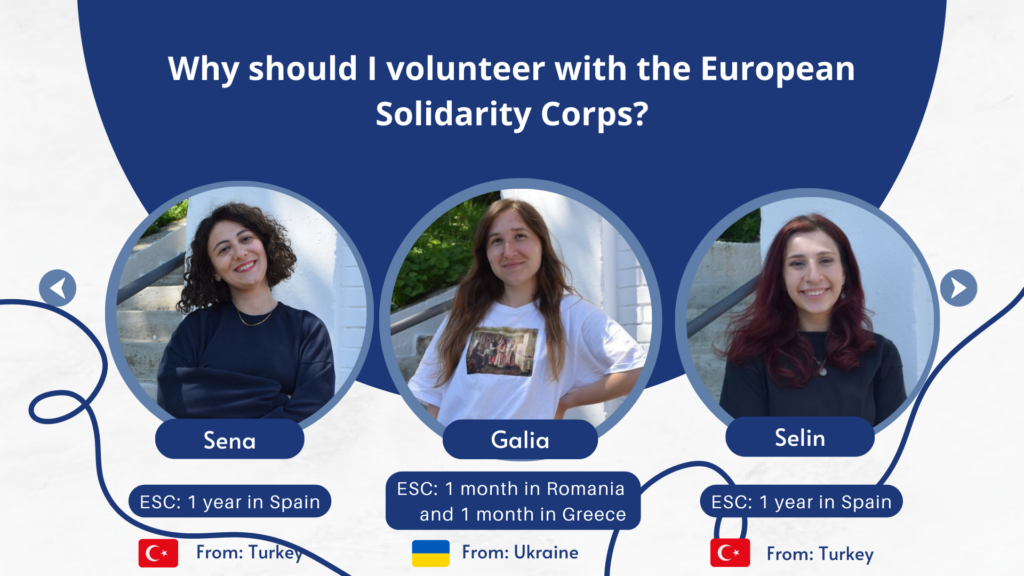 Now I propose to explore the practical side of volunteering. I am currently on an exchange for young entrepreneurs under the Erasmus for Young Entrepreneurs program in Spain in the small town of Oiartzun. Here I met two wonderful girls from Turkey, Selin and Sena, who volunteer at the local NGO Abarka under the European Solidarity Corps program. I also have experience of similar short-term volunteering in two other countries, Romania and Greece. So it was interesting for us to discuss and share our impressions of this program.  I hope you will find it interesting as well.
—————————————————————————————————————————————————————————-
How did you find out about these volunteer opportunities?
Sena: I saw friends sharing their ESC volunteering experiences on social media. Then I decided to look at the projects on the advice of a colleague, and here I am in Oiartzun.
Galia: Since I was a student, I have been running a resource where I share similar opportunities for Ukrainian youth called Your Space of Opportunities. So I always know about cool projects. So in 2021, I was interested in a short-term volunteering for 1 month in Romania. And for the second time in 2022, in May, due to Russia's attack on Ukraine, I was forced to leave Kharkiv and found a month-long volunteering in Greece.  
Selin: I was following the Erasmus+ program and looking for opportunities to develop because Erasmus+ supports young people, and when I was researching ESC projects, I decided to become an ESC volunteer. I found the right opportunity: https://youth.europa.eu/home_en and decided to apply to NGO Abarka from the European Youth Portal.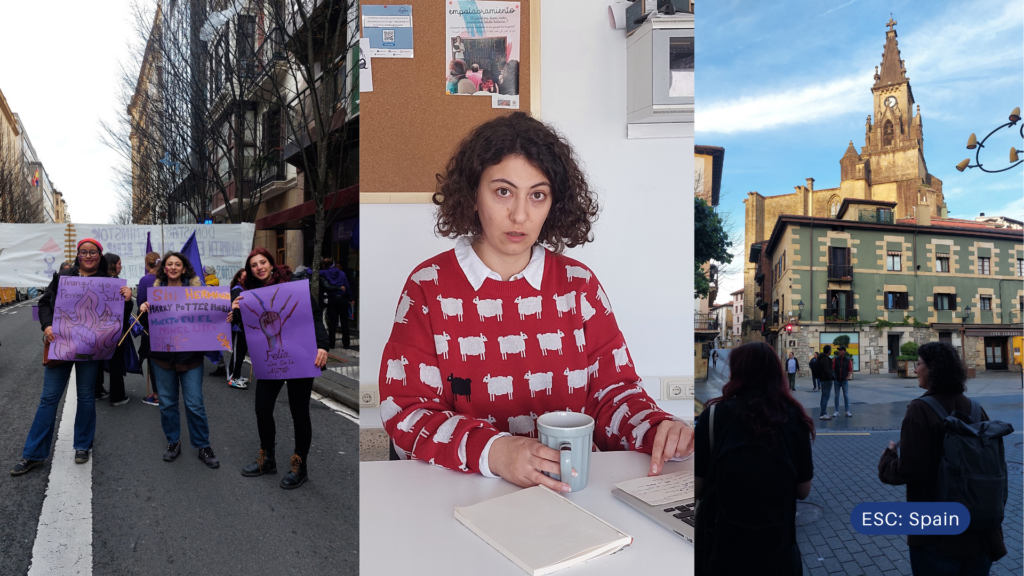 Why did you choose this particular volunteering and did it meet your expectations? 
Sena: I used to work in civil society in Turkey. The reason I wanted to participate in ESC projects was that I wanted to learn about the logic, development, and tools of civil society in countries other than Turkey. The reason why I chose NGO Abarka was because they were interested in different types of projects and I felt that we could mutually improve each other. Besides, I always wanted to go to Spain and learn Spanish.
Galia: The shorter the volunteering, the less expectations, the less expectations, the more they are realized. 
Two of my volunteer programs were short-term, one month each, so it was hard to surprise me during this time, but volunteering in Romania did. I chose this particular volunteering because of the topic and location.  I wanted to explore the culture and the region of Transylvania because as a child I loved reading books and watching movies and TV series about vampires. And it was also an opportunity to take a break after leaving my job, which was quite stressful for me. It was the beginning of 2021 and the time of the coronavirus epidemic, so it may not be surprising that most of the participants got sick with the coronavirus at the end of the project and stayed for another 2 weeks of quarantine in Romania. But my test was negative, so I returned to Ukraine as planned.  
Selin:   I chose to volunteer with NGO Abarka because, firstly, I can help NGO Abarka with my professional skills, I am a graphic designer and I help NGO Abarka with my digital skills, and secondly, it is my first time working in a non-governmental organization, so this is a new area in which I am developing myself. For now, I'm happy to be here because every new day is new information for me.

Please recall the most positive and the saddest moment of your volunteering, what was the situation and how did you deal with it? 
Sena: : Actually, there were many moments when I felt very happy, but I think the most exciting moment was participating in the March 8th celebration here with my female colleagues. 
There are no sad moments, but I have been sick a few times since I arrived. Sometimes I feel very cold. I think this is all part of the process of adaptation and integration. In which all my colleagues support me. For example, in order to go to the hospital, you need to use the Henner health insurance provided by the program, but there were many things we didn't know the details about. My colleague Jensie emailed and talked to the insurance company for me, and then we went to the hospital with my coordinator Clotaire. Then, my colleague Naroa gave me moral support while I took my medication. This is just one example of the efforts they made to make me feel at home. 
Of course, no matter what, you miss your friends and family. I am often in touch with them by phone via video link, and in the coming days I will be traveling to Turkey using my permission to which I am entitled under my contract here.
Galia:: Since my volunteering was short-term, I had less time for sad moments and tried to enjoy my volunteering as much as possible. The best moments were when we had free time to travel and explore new cities. So in Romania, during my 1 month of volunteering, I visited 9 big cities and 2 castles on weekends. And in Greece, I explored almost all the beaches of the island of Levkada.  The younger participants also really enjoyed the night parties. And sad moments are usually the end of the project, illness, accidents, conflicts, so try to prevent them.
 Selin: The most positive thing for me is that I have a creative field here, and I can be useful for myself and other people. The saddest thing is the language barrier.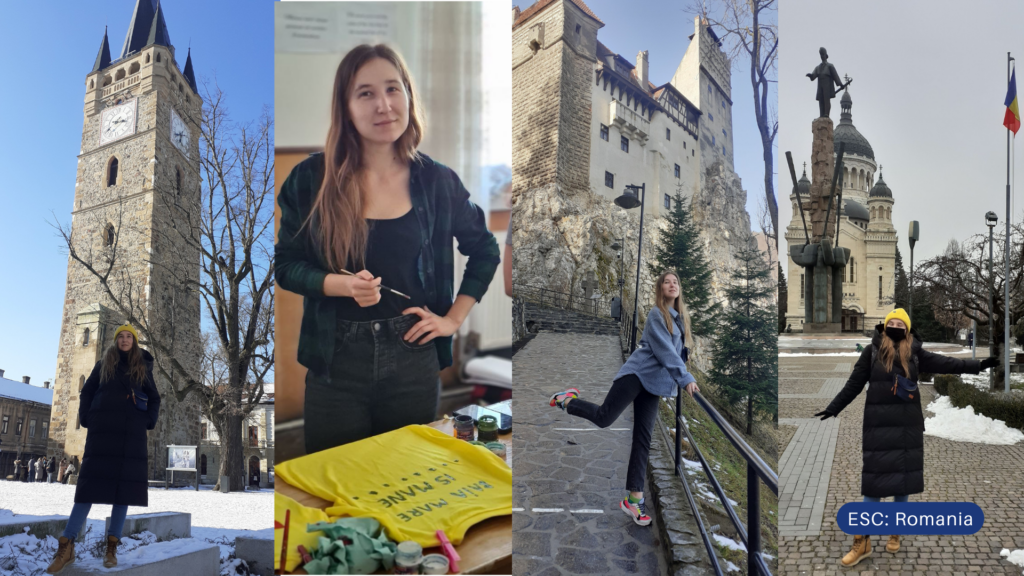 Do you miss your home and friends? How do you cope with this?
Sena:  Yes, sometimes I do. Sometimes I can't believe I'm still here. I miss them a lot, but I am incredibly eager to share my experiences with them, and I do that as much as I can. As I said, I try to call them often and visit them in Turkey. There is also a women's solidarity group (support circles for immigrant women) that we join here. Sometimes I feel at home when I am with these women.
Galia:  I miss them very much, so I try to call them, and whenever possible, I can invite them to visit or plan a mini-trip to Europe during the weekend or right after the project is over. Don't put your life and loved ones on hold.  
Selin: I use WhatsApp and Discord to keep in touch with my parents and friends.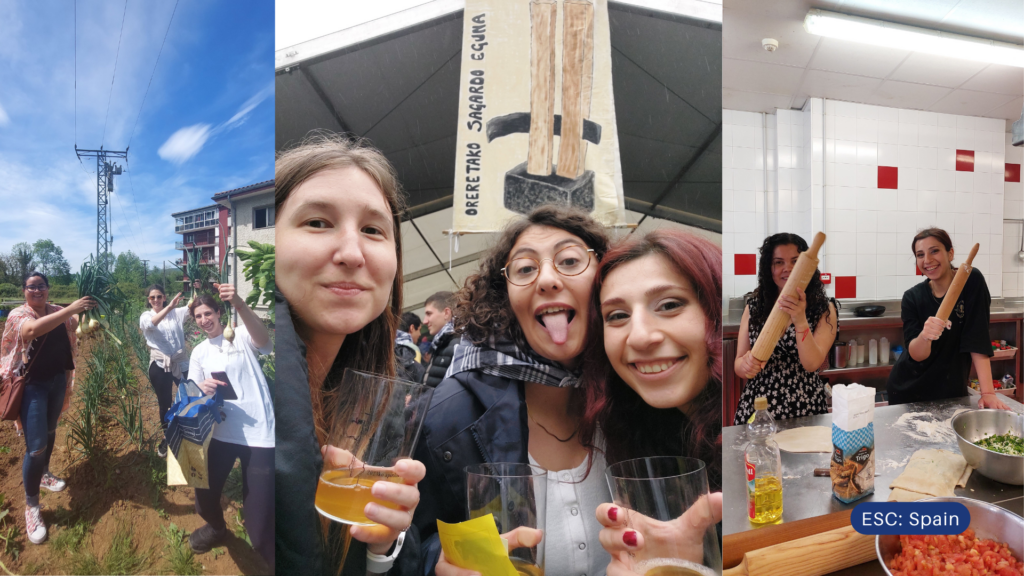 What new and unusual things have you discovered here compared to your home country? 
Sena:  Many things here are very different from Turkey, but many things are very similar. There are much fewer people here than in Turkey, and the Basque region has its own culture, which I am gradually discovering. Since I came here (three months), I have learned that I am a much more social person than I think I am. I also saw that I can achieve a lot by learning quickly when I want to. I discovered the peace of waking up amongst the greenery to the sound of birds singing, and the last thing I discovered is that it is possible to live a peaceful life without panic.
Galia: I liked that Romania and Ukraine have quite similar traditions and celebrations. Unlike Ukraine, Romania celebrates the beginning of spring, Mercişor. This is a traditional holiday of welcoming spring in Moldova and Romania, which is celebrated on March 1. On this day, it is customary to give boutonnieres in the form of flowers made of white and red threads. This decoration is called «mercisor». We made these mertsishors with our own hands and gave them to the locals. 
In Greece, the «siesta» was also unusual, the hottest time of the day from 12:00 to 15:00 when shops, sometimes cafes and restaurants are closed and locals are sleeping at this time. For Ukraine, this works only for children in kindergarten, but in hot countries it is the norm. 

Selin:   The siesta is also a surprise for me, because in my hometown we don't have a siesta. Even if you have urgent things to do, you have to wait until the siesta is over. Also, I don't want to bring this culture to my hometown because the siesta time borders on more efficient hours during the day.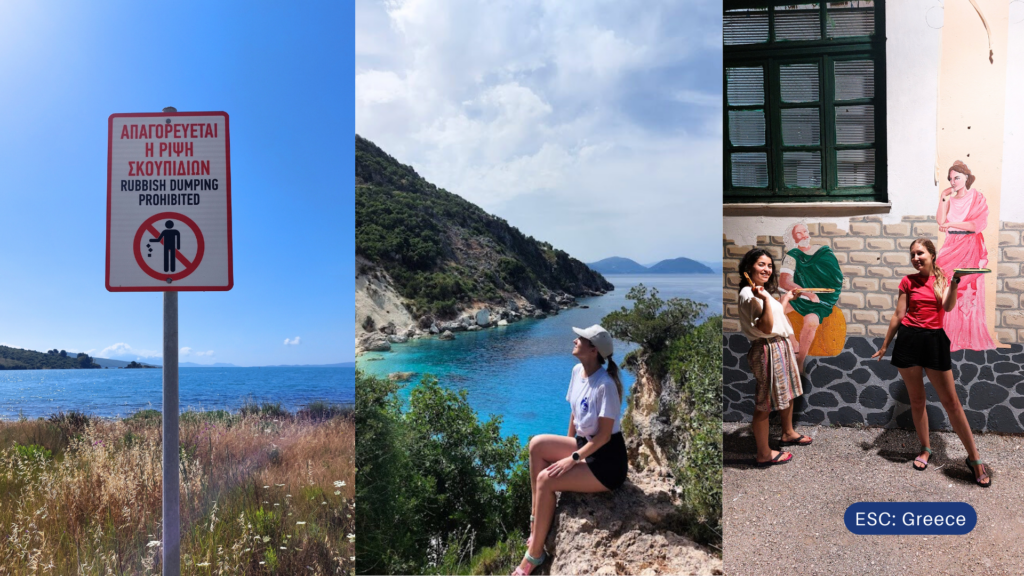 Tips for future volunteers: 
1.Duration of volunteering: short-term + long-term = long-term. 
You have 1 year to volunteer in this program. That is, each young person can try out the role of a volunteer for up to 1 year. For example, you can apply for a team short-term volunteering for 1 month and another 1 for 10 places, then you will have 1 month of the reserve.  But if you immediately choose a 1-year volunteering, then after this volunteering you will not be able to have another 1, because you have used your entire term. 
2.Managing financial expenses:
Usually, the host organization prepares the accommodation for you, they try to put all volunteers together. It can be an apartment, a house, or a hostel. Therefore, you should find out in advance where and with whom you will live. Living together, you can cook at home, which will allow you to save money, for example, for traveling. 
3.Make the most of your potential.
Take responsibility for volunteer duties, immerse yourself in the topic, and make new useful contacts. In the future, this will help you to be more effective, find a better job, and have many friends around the world. Remember that you should have a mentor to help you with adaptation and advice. Also, learn the local language to explore more about the culture and traditions of the country where you are staying.  
 And a bit of personal advice.

Question for Selin:  How do you make new friends in a new city?
I'm lucky because I live with other volunteers. So it's easy for me to be social. But making local friends is harder than being social because of the language barrier and the smaller population.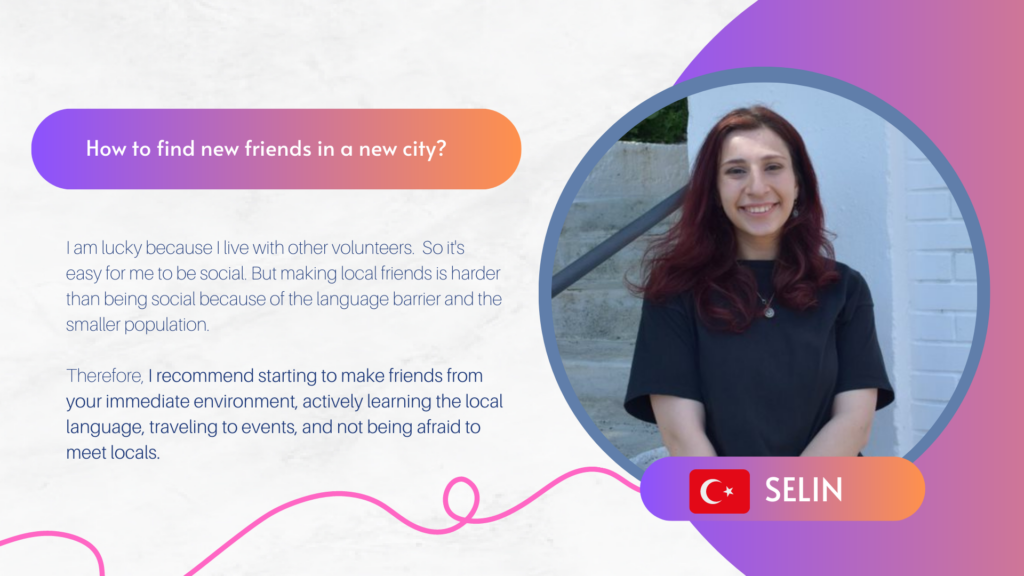 Question for Galia: How do you adapt to a new field and team at first? 
I think that adaptability is a rather subjective skill of each person. Therefore, it will be easier for some people and harder for others, but if you know yourself, you can prepare yourself. Here are some of my personal tips.  
For better adaptation, it is advisable to learn as much as possible about your host organization, specific volunteer functions and responsibilities beforehand. Add your coordinator and fellow volunteers as friends on social media. This way, even before you start volunteering, you will start to get to know the people you will spend time with.
However, you will only really discover their character and personality when you volunteer and live together. Therefore, leave yourself space and moral resources for surprises, pleasant and not so pleasant. And if you are worried about something, tell the coordinators or the sending organization right away, even if you just have a toothache or backache, so that it doesn't get worse later. 
In general, I would recommend knowing the program rules and your rights well.  Be able to accept people as they are and at the same time defend your boundaries and values. And be sure to bring some gifts from your home country for your future colleagues, as this may increase your chances of making friends and presenting your country's culture and traditions.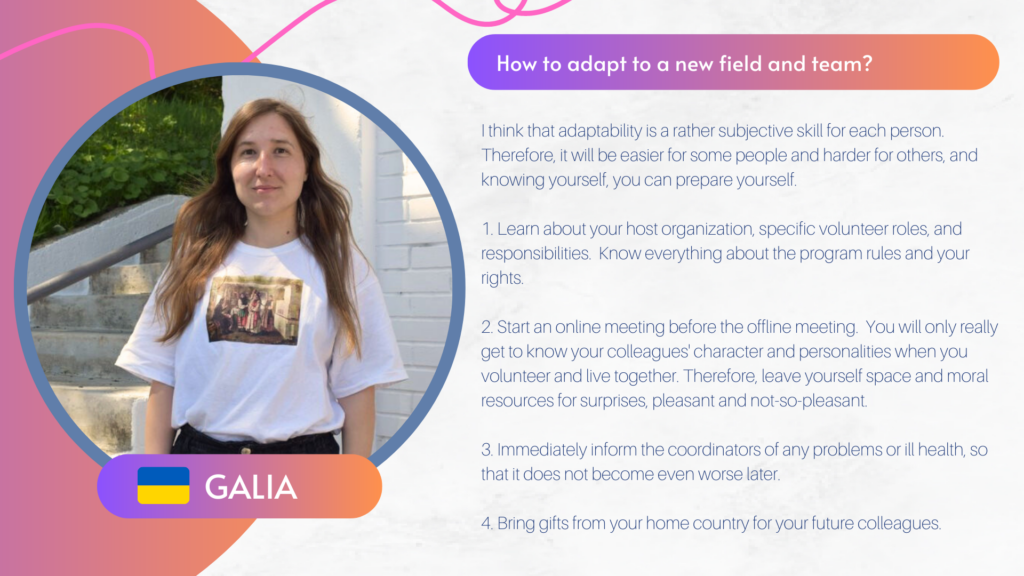 Question for Sena: How do you set up your living space comfortably when you live with other volunteers? 
I think the most important thing here is to respect personal space. It's important because you usually work with other volunteers all day long, and sometimes you may need to be alone. Now we live in the same house with other volunteers – Selin from Turkey and Galia from Ukraine. We solve all the issues related to the house together and clean it together. We also follow the rules that we set for the house together.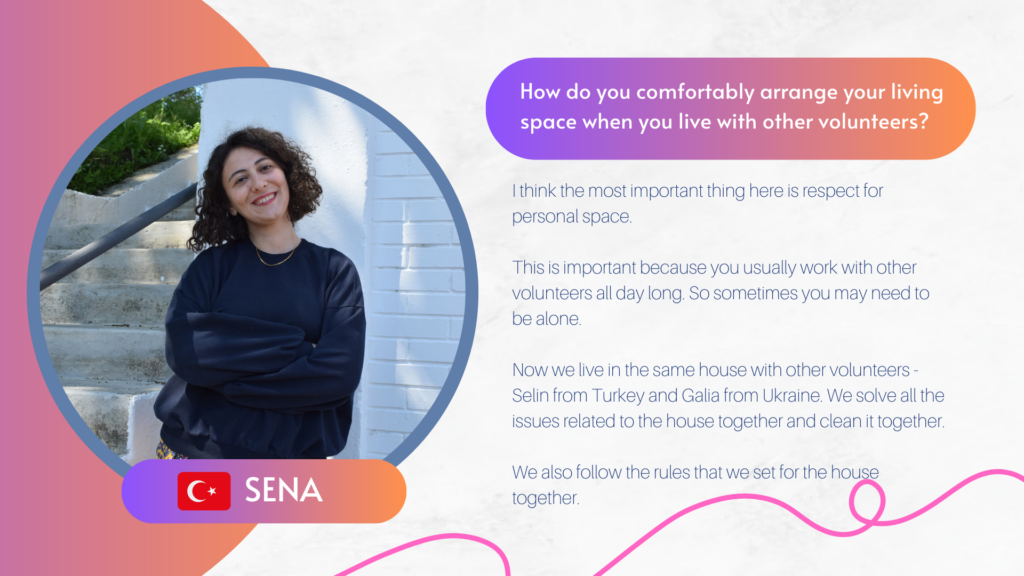 Thank you for your attention and we encourage you to try volunteering!