Opportunities for young people: education & travels
Visit new countries, gain new experience, skills, knowledge, and friends – all this can be done for free and with pleasure thanks to European programs aimed at youth development and cooperation!  More information about these programs and the terms of participation in them below.

But now it's time to get to know each other!
1. Erasmus+ Youth Exchanges
Youth exchanges (YE) allow groups of young people from different countries to meet, live together and work on shared projects for short period of time.

Objective: to engage and empower young people to become active citizens, connect them to the European project as well as to help them acquire and develop competences for life and their professional future.
On a youth exchange, you can expect to participate in activities such as workshops, exercises, debates, role-plays, outdoor activities and more. Cultural evenings are also usually held here, where participants can present their country's culture and cuisine. 
Food and accommodation, travel expenses are fully covered

For whom : youth from 13 to 30 years old
Duration: 5 –  21 day

More info 
The European Youth Portal also provides information and opportunities for young people.
2. Student exchanges in European universities
According to this program university students can study abroad at one of their institution's partner institutions across the European Union and partner countries. You can spend one or two semesters abroad by studying in another country, on a full scholarship, improve your communication, language and intercultural skills and gain soft skills highly valued by future employers. 
You can apply through the international or Erasmus+ office of your higher education institution. So don't hesitate and visit the international relations office at your university – they will tell you which opportunities are available in your subject and will help you to apply.

You will receive an Erasmus+ grant as a contribution to your travel and subsistence costs.

For whom: students, at least in the second year of your studies, registered in a higher education institution and enrolled in studies leading to a recognized degree or tertiary-level qualification. 
Duration: minimum of 2 months (or 1 academic term or trimester) and a maximum of 12 months  
Erasmus Student Network (ESN) is one of the biggest student associations in Europe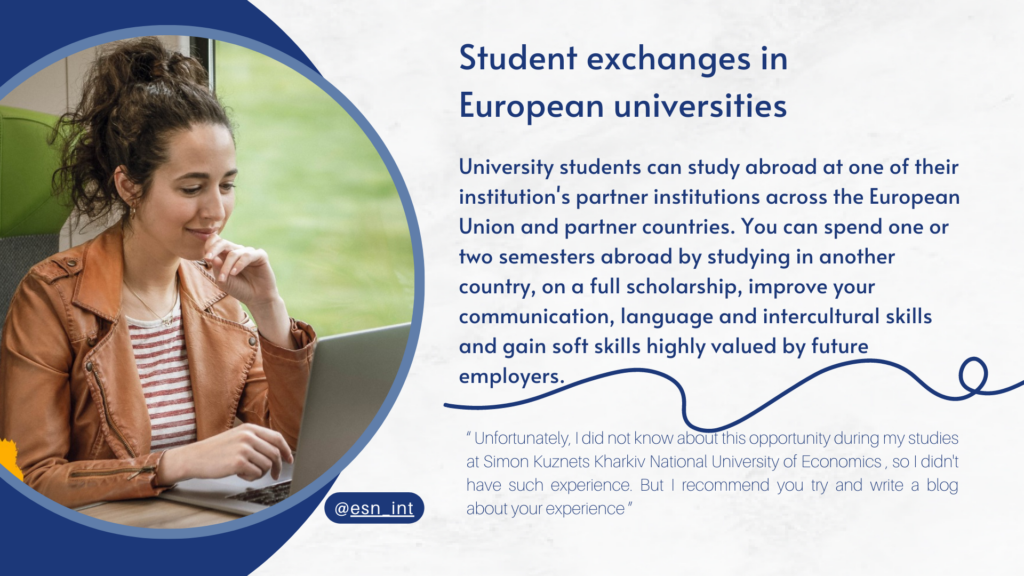 3. European Solidarity Corps
One more way to gain experience abroad is by volunteering through the European Solidarity Corps (ESC). This program helps young people take part in projects that benefit communities, either abroad or in their own country.
This is a unique way to experience different cultures and make new friends, while also helping others and learning new skills. Volunteer projects could be anywhere in the EU or its partner countries, and in fields as varied as culture, youth, sports, children, cultural heritage, arts, animal welfare or the environment.

These volunteer projects can be individual or group. Also, the host organization provides accommodation, food and transport expenses. Volunteers also receive pocket money.

For whom : 17 and 30
Duration:  2 weeks and 12 months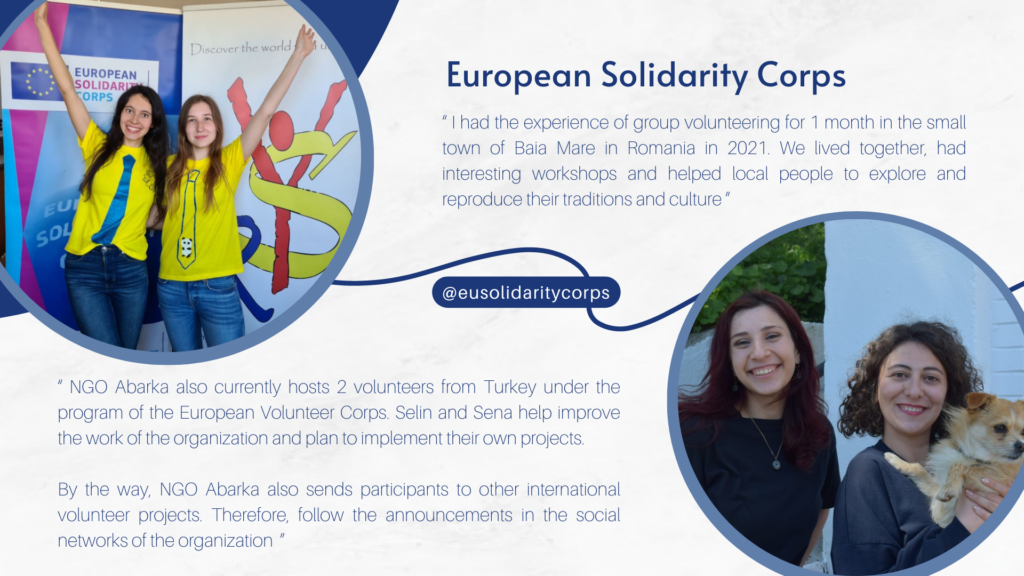 4. Erasmus+ traineeships for students
Erasmus+ supports work placements and internships abroad for Bachelor, Masters and Doctoral students, as well as recent graduates (within one year of your graduation).

But your traineeship must be relevant to your degree and, wherever possible, be integrated in your study program, so check the opportunities with your university. Work placements can last between two and twelve months, and Erasmus+ grants are available to cover your costs.
For whom :  Bachelor and Master level as well as for doctoral candidates and recent graduates
Duration:  2- 12 months

More info  
You can also apply for an Erasmus+ scholarship to study for a Master's degree at top European universities.

For a Master's degree, you need to check out the catalogue of Erasmus Mundus Joint Master Degrees, which lists the courses offering Erasmus scholarships in the upcoming academic year (163 courses), then contact the university to apply for the course and scholarship.

Scholarships cover the cost of a student's participation in the programme, travel and a living allowance.
For whom :  Students at master's level from all over the world with bachelor's degree (first degree) or be in your last year of bachelor studies and graduate before the master's programme starts 
Duration:  1 to 2 academic years (60, 90 or 120 ECTS credits). 
6. Erasmus for Young Entrepreneurs
Young entrepreneurs can join the Erasmus for Young Entrepreneurs program, open to anyone who plans to set up a business or has started one within the last three years.

The program matches up young entrepreneurs with experienced small businesses in another European country for a placement of up to six months, helping the new entrepreneur acquire the skills needed to run a small firm.

Application and participation in the program are free of charge. No application or participation fees are requested. New Entrepreneurs participating on exchange receive an allowance per month. The amount depends on the country where they will be hosted. 

For whom : Aspiring or new entrepreneurs. Experienced entrepreneurs

Duration: 1- 6 months (can be online, offline and mix) 

Click here to know more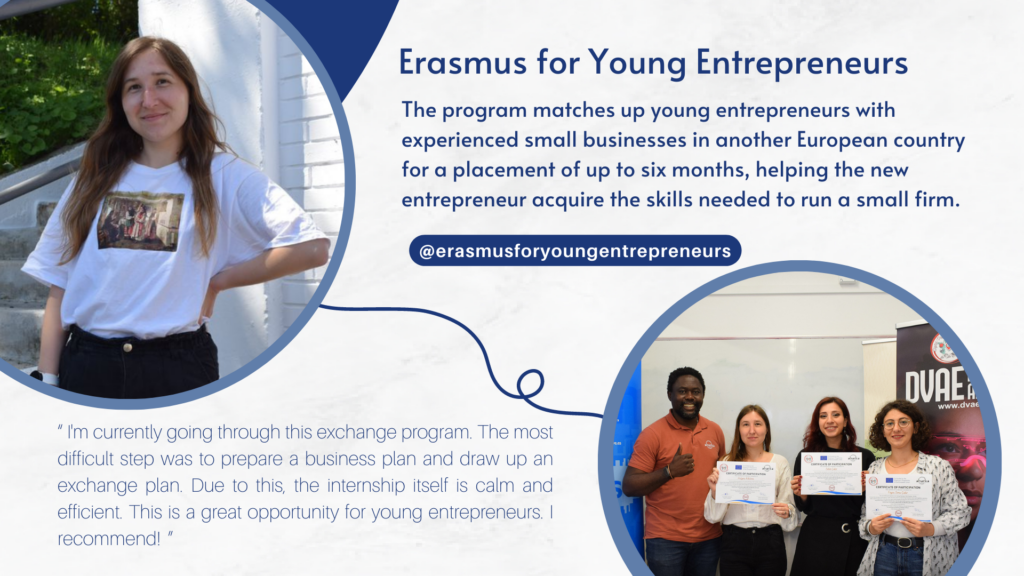 Importantly ! You can benefit of an exchange abroad with Erasmus+ multiple times, either as a student or as a trainee, but your total time abroad (study abroad periods included) may not exceed 12 months within one cycle of study.
Prepare yourself for opportunities and use them to the maximum!